My work has received recognition from ArtTour International Magazine (ATIM's Top 60 Masters Award 2022), American Illustration, 3x3 Magazine, the Society of Illustrators (NYC), the Society of Publication Designers, Print, Art Fluent, the Society of Illustrators of Los Angeles, Artavita and Applied Arts. My paintings have been displayed in many galleries including the Museum of American Illustration (NYC), Gallery-Henoch (NYC), the Smithsonian Hirshhorn Museum (Washington D.C.), Gallery 110 (Seattle WA), The Studio Door (San Diego CA), David Anthony Fine Art (Taos NM), Arte Ponte Gallery (NYC), Whatcom Museum (Bellingham WA), Gallery 25N (Online gallery), Viridian Artists Inc. (NYC), Greg Moon Art (Taos NM), Contreras Gallery (Tucson AZ), Tubac Center of the Arts (Tubac AZ), H Gallery (Ventura CA), Naples Art Assoc. (Naples FL), Axis Gallery (Sacramento CA), The Center for Contemporary Political Art (Washington DC), Blackboard Gallery (Camarillo CA) and was part of the Museum of American Illustration
2000-2001 Traveling Exhibition (40 selected works).
New publication: I have 8 paintings & commentary in "Not Normal: Art in the Age of  Trump" by Karen Gutfreund (available on Amazon).
Upcoming, Current & Recent Shows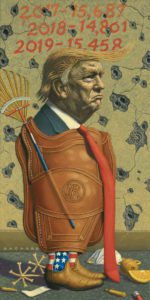 "Half-Cocked & Loaded" received the following recognition:

1) Best in Show Award - "No Justice, No Peace: Global Protest, Unrest & Conflict" (James Wise Gallery international juried show, Norfolk VA)

2)  Merit Award (Books) - 3x3 International Pro Show No. 18 Competition

3) American Illustration "AI40 Chosen Winner" (selected to permanently appear in The Archive, AI-AP's exclusive online juried collection at www.ai-ap.com - 559 images selected from over 7,000 submissions)

4) 3rd Place Winner - "Fresh Art 2020" (Marin Society of Artists national juried online exhibit)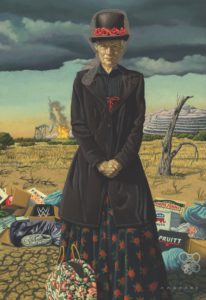 "Ma Nature Revisited" received the following recognition:

1) 1st Place Winner - "Open Call 2022", Red Bluff Art Gallery international juried online exhibit

2) 3rd Prize Winner -  "Rough Road Ahead: Viridian's 30th International Juried Competition, Part II" (Viridian Artists, NYC)

3) 1st Prize Winner (front cover of "Current Masters" Vol. 4, 2019) - "Artavita 30th Contest" @ www.artavita.com (selected 1st from 3,764 entries)

4) Winner (Gallery) - Applied Arts 2018 Photography & Illustration Awards

5) Certificate of Merit (Unpublished) - Illustrators 60 (Society of Illustrators)    

6) Silver Award (Gallery) - Illustration West 56 (Society of Illustrators of Los Angeles)

7) Merit Award (Gallery) -  3x3 Pro Show No. 15 Competition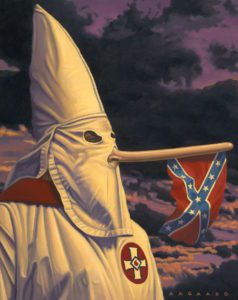 "White Lie" received the following recognition:

1) Honorable Mention Award - "Chiaroscuro" (San Fernando Valley Arts & Cultural Center international juried online exhibit)

2) 2nd Place Winner - "Celebration of Art 2020" (Marin Society of Artists national juried online exhibit)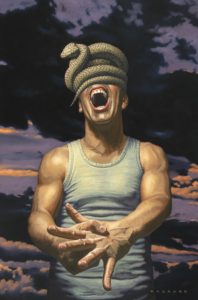 "Blinded by Delight Redux" received the following recognition:

1) 1st Place Award - "The Next Big Thing 2019" at the Blackboard Gallery/Studio Channel Islands (Camarillo CA)..... juried by Mat Gleason

2) CFA (Circle Foundation for the Arts) Artist of the Year Award 2019 - "Finalist Award"

3) American Illustration "AI38 Selected Winner" (selected to appear in the 2019 American Illustration 38 Annual - 386 images selected from over 7,000 submissions)

4) 2nd Place Winner of "Mind Spirit Emotion 2018" international fine art online juried competition - "Art-Competiton.net" @ www.art-competition.net

5) Honorable Mention Award - "Artist's Vision" (2020) at Marin Society of Artists (San Rafael CA)

6) Award of Distinction - "Every Color Has a Story" (2020), Flagler County Art League national juried online competition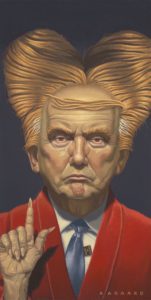 "Trumpcula: Old Habits Die Hard" received the following recognition:

1) Merit Award (Books) - 3x3 International Pro Show No. 18 Competition

2) "The Christopher E. Burke Fine Art Grant" winner of "RED 2018" international fine art online juried competition - Gallery 25N online gallery @ www.gallery25n.com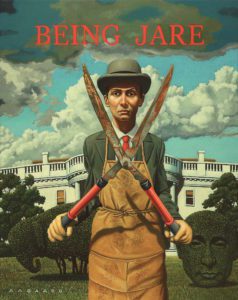 "Being Jare (w/apologies to Chauncey Gardiner)" received the following recognition:

1) Honorable Mention Award - "50th Annual Melvin Gallery Art Exhibition" (Apr 2022)

2) Merit Award (Unpublished) - 3x3 Pro Show No.15 competition

3) Winner (Unpublished) - Applied Arts 2018 Photography & Illustration Awards

4) Communication Arts 2018 Illustration Shortlist (Unpublished)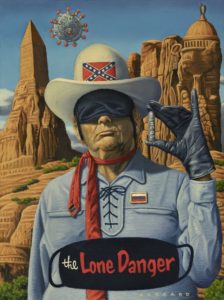 "The Lone Danger" received the following recognition:

1) Best of Show Award - "Hi Ho Silver" (Art on 30th/Ashton Gallery national juried show, San Diego CA)

2) Best of Show Award - "MSAG 2021 Virtual Juried Show" (Mt. Si Artist Guild national juried show, Mt. Si, WA) 

3) Honorable Mention (Gallery) - 3x3 International Pro Show No. 18 Competition

4) 2nd Place/Gold Award - The Lakeland Art Guild 49th Annual Art Exhibition

5) Certificate of Merit (Gallery) - Illustration West 59 (Society of Illustrators of Los Angeles)

6) Communication Arts 2021 Illustration Shortlist (Unpublished)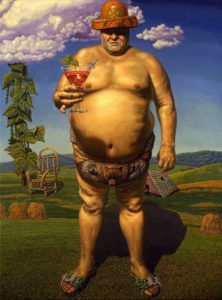 "Giant On Holiday" received the following recognition:

Director's Choice - "MOOD" (Art Fluent international juried show, Boston MA - Oct 26, 2022)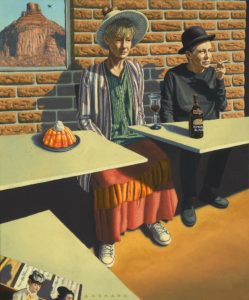 "Sambuca & Cigarettes (after Degas)" received the following recognition:

1) Best of Show Award - "WHATEVS" (Art Fluent international juried show, MA - Nov. 2021)

2) Best of Show Award - "53rd Founders Juried Awards Exhibition" (Naples Art Assoc., Naples FL - Dec. 2019)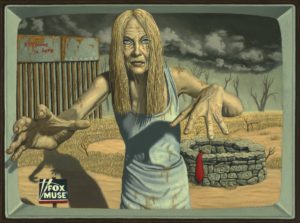 "FOX Muse" received the following recognition:

1) Honorable Mention Award - "All About Women" (Marin Society of Artists national juried online exhibit)

2) Merit Award (Books) - 3x3 International Pro Show No. 18 Competition

3) American Illustration "AI39 Chosen Winner" (selected to permanently appear in The Archive, AI-AP's exclusive online juried collection at www.ai-ap.com)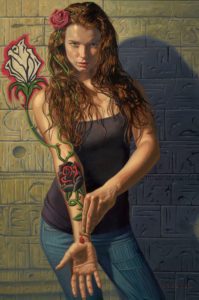 "She's a Concept, More or Less" received the following recognition:

HMVC Gallery "Women" Exhibit Award Winner - HMVC Online Solo Show, Apr 1 - 15, 2023

1st Place Award (Oil painting category) - The Lincoln Gallery 2019 National Fine Arts Show (Loveland CO)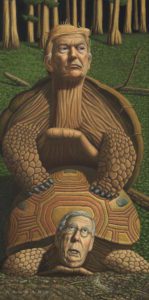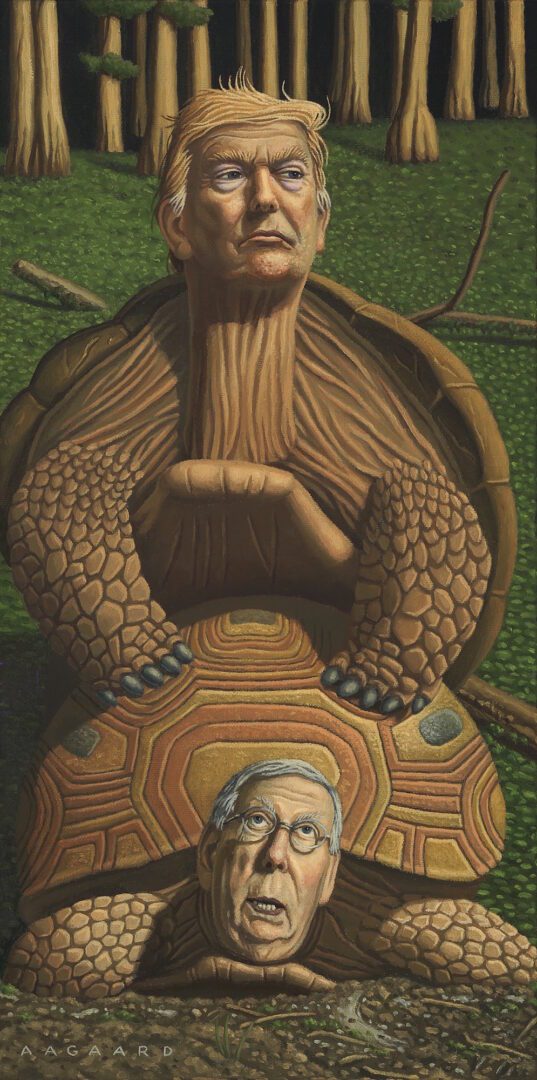 "Swamp Shell Game" received the following recognition:

1) 1st Place Award (Oil painting category) - The Lincoln Gallery 2020 National Fine Arts Show (Loveland CO)

2) Honorable Mention (Gallery) - 3x3 Pro Show No. 16 Competition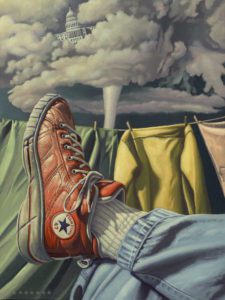 "Spin Cycle" along with "Giant On Holiday", "God According to Voltaire" & "Blinded by Delight Redux" received the following recognition:

3rd Prize Winner (Premium Artist 4 Page Presentation in "International Contemporary Masters" Vol. 13, Oct. 2019) - "Artavita 32nd Contest" @ www.artavita.com (selected 3rd from 4,185 entries)